Writers Sprint With Africa's Pro Mediators In 2022 At The Weekly Virtual 5R Group Writers Mediators Session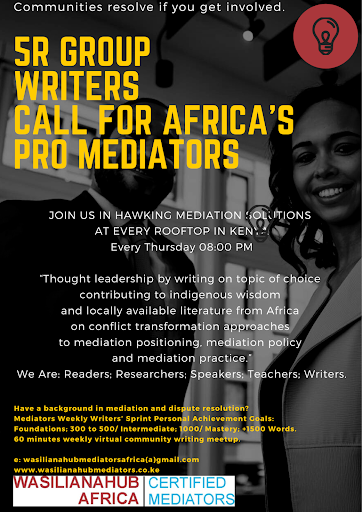 WASILIANAHUB - 5R GROUP WRITERS MEDIATORS WEBPOST - MAY 18 2022
Practitioner Association is a node to relationships, learning and upskilling.
"Our people are suffering because 
they do not know that we (mediators) exist."
— Reverend Fr. Prof. Peter Ignatius Gichure (2020)
May to December, 2022: We are on Thursday this week. Join the Community of Mediators for the writers' sprint! Help us in letting more people know about mediation and about you as a mediator through your writing: package; promote; and hawk mediation solutions.
3rd Week is Joint Writing Thursdays: Achieve 300 words of casual writing; on the select topic of: Peaceful Election in Kenya; then we shall get your blog piece published! 
PS: We may not ‌let in 10 minutes after the start time, everyone's silent writing and concentrating.
We Are: Readers; Researchers; Speakers; Teachers; Writers.
Mediators Weekly Writers' Sprint Personal Achievement Goals:
Foundations; 300 to 500 Words/ Intermediate; 1000 Words/ 
Mastery; +1500 Words.
5R Group Writers 
Weekly Registration Information
Meeting ID: 828 5095 4304 I Passcode: 5RGWM2022
You are invited to a Zoom meeting. 
When: May to December, 2022 20:00 Nairobi 
Register in advance for this meeting:
https://us02web.zoom.us/meeting/register/tZYlcumhqz8pGtA_yPSeyFv7RnwqwTE5ZyOw
After registering, you will receive a confirmation email containing information about joining the meeting.
"Thought leadership by writing on topic of choice 
contributing to indigenous wisdom 
and locally available literature from Africa 
on conflict transformation approaches 
to mediation positioning, mediation policy and mediation practice."

5R Group Writers Mediators
Join The Virtual Writing Thursdays 08:00 - 09:00 PM EAT.
"If you want to be a writer,
you must do two things above all others: 
read a lot and write a lot. There's no way around these two things that 
I'm aware of, no shortcut."
—Stephen King.
Are you an Ignatian Fellow or a Fellow advancing in your fellowship idea, theory, or framework? Are you a Mediation and Dispute Resolution (MDR) Professional with a personal writing assignment?
This is a virtual hour to write with fellow mediators. Use the time to start a new writing project; research an ongoing one; or even to conclude one. Whether preparing a presentation, writing a blog, an article, a school project, a song, a survey, an email, researching or reading up, this is 'silent time' for your writing interests and needs. 
Join up with peer mediators for the virtual writing hour.
Some tips as you connect to the writers' community:
Show up for yourself. Log on at least 5 mins early, ZOOM authenticate;

We may not ‌let in 10 minutes after the start time, everyone's silent writing and concentrating;

Keep a status diary of weekly writings to do, completed and others; 

Share with your peers on achievements at each session;

Keep accountable and accompany others via video;

Show up for yourself and the community;

Celebrate your hits, wins and soon to be wins.
We may not let in 10 minutes after the start time, everyone's silent writing and concentrating. Kindly join in the next week.
Most of all, make the best use of this one-of-a-kind community.
PS: Thank you for registering for the events. We keep a record of the basic information on the participants at each meeting hosted via this platform.
*******  
God bless you.
WASILIANAHUB Community
e: wasilianahubmediatorsafrica@gmail.com