World Intellectual Property Day 2021 – "IP and SMEs: Taking Your Ideas to Market"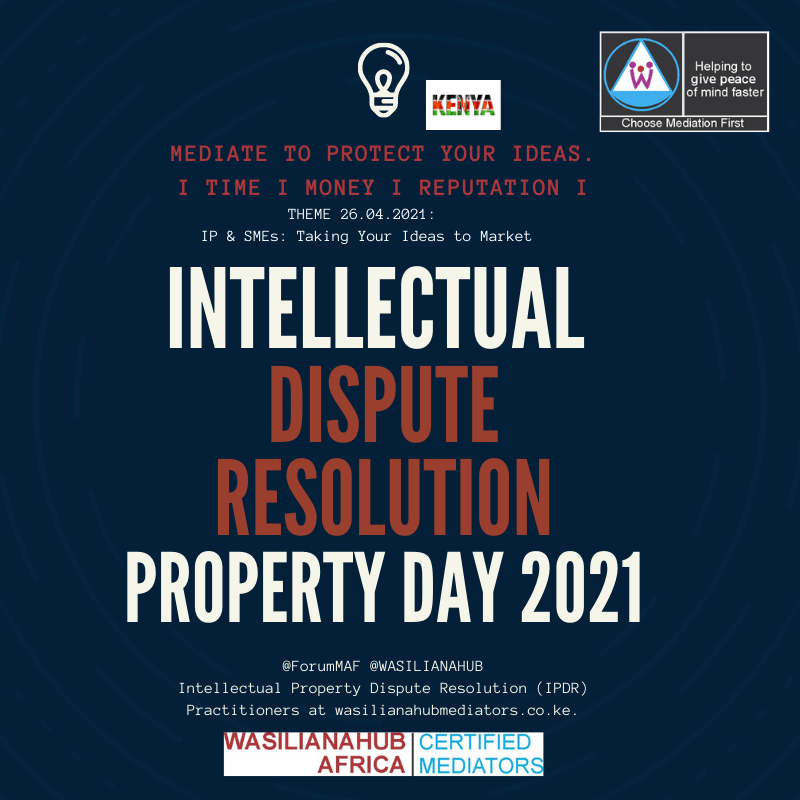 (#WorldIPDay)
What is the role of SMEs in the economy? How can they use intellectual property (IP) rights to compete and grow? How does mediation support  SMEs in handling IP related disputes?
Celebrated on April 26, 2021, this year's World Intellectual Property Day (#WorldIPDay) theme is 'IP & SMEs: Taking your ideas to market'. Since 2000, the aim of the day is 'increasing general understanding of intellectual property (IP)'.
Message From The WIPO Director General
"SMEs are the engines, the unsung heroes of our economy. And yet for many of them, there is still a lack of knowledge about how IP can help them translate their ideas into products, and how IP can be a powerful tool for them to not just survive, but to also compete and grow." - WIPO Director General Daren Tang.
IP Skills for Mediation and Dispute Resolution (MDR) Professionals
In 2020, the WASILIANAHUB Community kicked off the mediators skilling pathway, creating a pipeline of mediators with IP skills. Increasing mediators locally and internationally who may serve the creative economy, startups and MSMEs whether in private practice, on panels such as the WIPO ADR panel, judiciaries, and on dispute boards. The 1st Cohort of mediators as part of the Intellectual Property Dispute Resolution (IPDR) Professionals completed the IPDR prerequisite WIPO Academy courses in 2020.
The WIPO Arbitration and Mediation Center
Amounts in dispute in WIPO ADR cases have varied from USD 15,000 to 1 billion.
70% of WIPO mediation and 33% of WIPO arbitration cases have concluded in a settlement between the parties.
The WIPO Arbitration and Mediation Center offers time- and cost-efficient alternative dispute resolution (ADR) options, such as mediation, arbitration, expedite arbitration, and expert determination to enable private parties to settle their domestic or cross-border commercial disputes.
WIPO ADR Statistics
a. 750 mediation, arbitration and expert determination (together, WIPO ADR) cases in the period covering 2011-2020.
b. In 2020, settlement rate in mediation cases increased to 78%.
c. WIPO has administered over 50,000 cases under the Uniform Domain Name Dispute Resolution Policy (UDRP) and related policies. Together, these proceedings have involved parties from 180 countries and some 90,000 Internet domain names.
Types of Disputes
WIPO ADR cases usually arise in the context of the following types of disputes:
licensing agreements (e.g., trademarks, patents, copyright, software)
research and development agreements
technology transfer agreements
distribution agreements, franchising agreements
Information Technology agreements
data processing agreements
joint venture agreements
consultancy agreements
art marketing agreements
digital copyright
TV distribution and formats
film production
copyright collective management
cases arising out of agreements in settlement of prior court litigation
Mediation Clause in Contracts
Mediation First clauses are recommended as part of contracts. An ongoing dispute may also be submitted to mediation.
Future Disputes: WIPO Mediation Clause
(Article 3 of the WIPO Mediation Rules)
Any dispute, controversy or claim arising under, out of or relating to this contract and any subsequent amendments of this contract, including, without limitation, its formation, validity, binding effect, interpretation, performance, breach or termination, as well as non-contractual claims, shall be submitted to mediation in accordance with the WIPO Mediation Rules. The place of mediation shall be [specify place]. The language to be used in the mediation shall be [specify language].
WIPO Distance Learning Courses and Certification
WIPO offers courses that cover all aspects of intellectual property (IP). As a mediator, we recommend the following WIPO Distance Learning Courses; General Courses at the
Introductory stage
(Prerequisite Courses):
Primer on Intellectual Property
 and 
General Course on Intellectual Property (version 2)
. You will find the 
IP Panaroma
 worth your time.
*The General Course on Intellectual Property (version 2) 
includes a certificate upon completion
.
**Please note that (self) registration is online via the WIPO Academy platform (open a private account by email).
Support and Resources From WASILIANAHUB
Revision Resources:
 WASILIANAHUB YouTube channel.
Replay Masterclass and IPDR Tutorial (1,2,3) Sessions hosted with KIPI and IP Consultant William Agan respectively. We thank the experts for their contribution to our Community. The complementary resources are free to access.
Ready to serve in the creative economy, startups and MSMEs in Kenya? We look forward to welcoming you to the network of Intellectual Property Dispute Resolution (IPDR) Professionals upon receipt of your certificate from The World Intellectual Property Organisation (WIPO). Learn more about the WIPO self-paced courses and register.
"Huduma ya Mpatanishi Mteule." Professional Mediators are a breath of fresh air of trust and a new vision of hope. @WASILIANAHUB I Enriching Lives: Build Better.
To connect:
To learn about MARC -The Mediation Manager: A Mediators listing service visit:
###Ends 2021 April.
About The Continuous Learning Events
Continuous Learning Education and Experiential (CLEE).
Pro Mediator Listed: CLEE certificate issued in your MARC The Mediation Manager platform digital account.
The MARC Manager
We are a listing service for East Africa's premier mediators (and broadly Africa). Your one stop link to an accessible and verified mediator, to a mediation agency and to the mediation center nearest to you. Connecting communities, businesses, families and nations in dispute with accessible and verified mediators.
About The Networking Events
Throughout the year, the WASILIANAHUB mediators community creates opportunities to engage through meetups in-person and virtual. WASILIANAHUB hosts a Mediation Day Symposium every quarter and the annual Strategy 20 Conference now hosted within the African International Mediation (AIM) Week.
                                ***