WE ARE LOOKING FOR YOU – COUNTY REPRESENTATIVES 2021!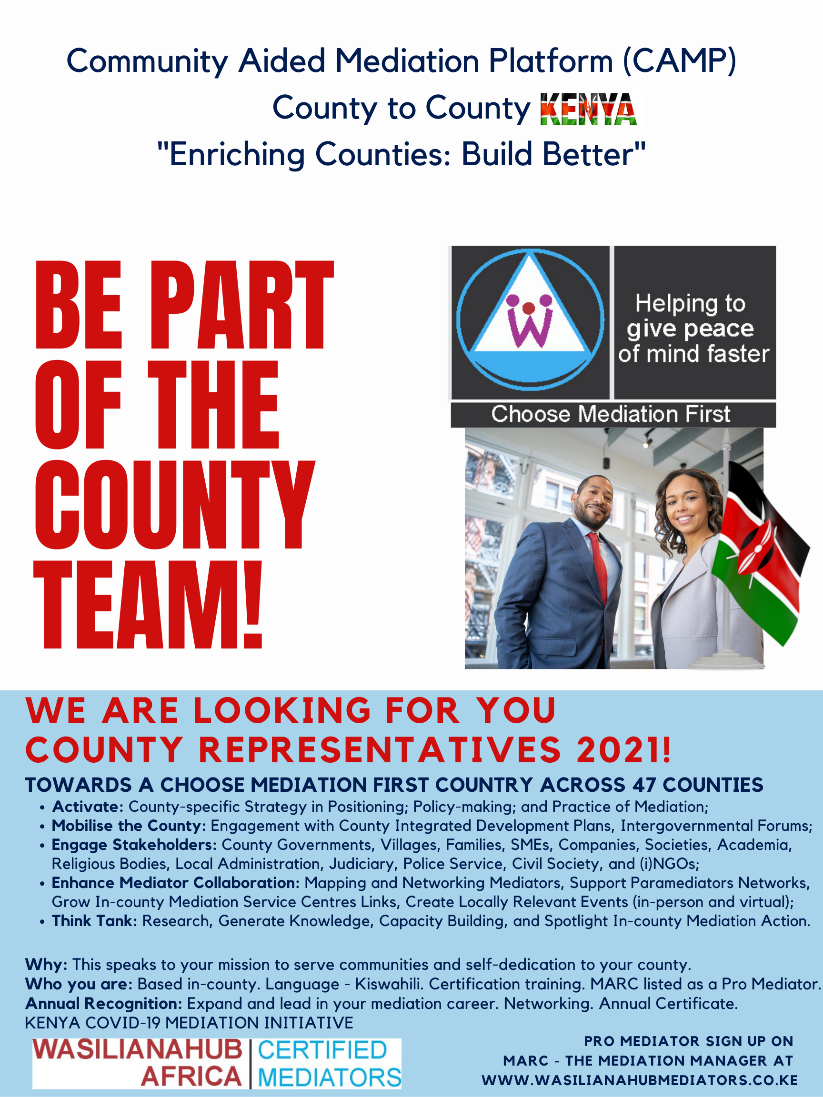 TOWARDS A CHOOSE MEDIATION FIRST COUNTRY ACROSS 47 COUNTIES
Community Aided Mediation Platform (CAMP) County to County
"Enriching Counties: Build Better"

We invite Mediation and Dispute Resolution (MDR) Professionals based across the 47 counties in Kenya who want to lead in creation of awareness, development of opportunities and networking.
Apply today.
CAMP Kenya - County Mediation Representative 2021 Application Form
Application closed. Thank you
The County Representative's responsibilities enable you to lead in country and across the 47 Counties in Kenya:
Activate: In Positioning; Policy-making; and Practice of Mediation;

Mobilise the County: Engagement with County Integrated Development Plans, Intergovernmental Forums;

Engage Stakeholders: County Governments, Villages, Families, SMEs, Companies, Societies, Academia, Religious Bodies, Local Administration, Judiciary, Police Service, Civil Society, and (i)NGOs;

Enhance Mediator Collaboration: Mapping and Networking Mediators, Support Paramediators Networks, Grow In-county Mediation Service Centres Links, Create Locally Relevant Events (in-person and virtual);

Think Tank: Research, Generate Knowledge, Capacity Building, and Spotlight In-county Mediation Action.
Why: This speaks to your mission to serve communities and self-dedication to your county.
Who you are: Based in-county. Language - Kiswahili. Certification training. MARC listed as a Pro Mediator.
Annual Recognition: Expand and lead in your mediation career. Networking. Annual Certificate.
*Language: Use and understanding of Kiswahili language as used across the counties.
KENYA COVID-19 MEDIATION INITIATIVE
About Devolution in Kenya
"Kenya's Constitution has often been described as ambitious, largely because it introduced a drastic departure from the previous norm, which was characterized by a centralized system of governance. The centralized system was challenged by its consistent inability to ensure equitable allocation of resources and development. The antidote came when the promulgation of the Constitution of Kenya 2010 introduced a devolved governance structure by establishing a two-tier system of government comprising of National Government and 47 County Governments working collaboratively to improve access to public resources and services to the ordinary citizens. By challenging history and fundamentally altering the form of government, Kenyans and the global community continue to monitor and appraise the extent to which devolution is translating to improved welfare of citizens and equitable development. This means that Kenyans are also closely monitoring the relevance of institutions and stakeholders with a mandate to make devolution work. The devolved governance structures were established in 2013 just after the general elections of 2012. Institutions that were established to facilitate transition and implementation of the new constitutional order have for the past four years gained a lot of experience in managing change within a devolved system of governance." – Executive Summary, The Council of Governors (COG) Kenya Strategic Plan 2017 - 2022.
"Huduma ya Mpatanishi Mteule." Professional Mediators are a breath of fresh air of trust and a new vision of hope. @WASILIANAHUB I Enriching Lives: Build Better.
To connect:
e: wasilianahubmediatorsafrica@gmail.com
To learn about MARC -The Mediation Manager: A Mediators listing service visit:
w: wasilianahubmediators.co.ke