WASILIANAHUB EFFECTIVE MEDIATOR MASTERCLASS ON ABUSE WITH PATRICIA OKETCH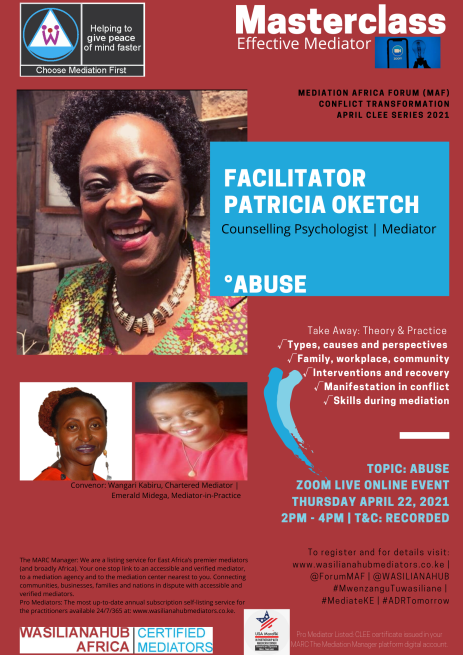 Programme
02:00 - 03:00 pm: Part 1 Lecture
03:00 - 03:10 pm: Health Break
03:10 - 03:40 pm: Part 2 Skills During Mediation
03:40 - 04:00 pm: Part 3 Q&A and Close
"Huduma ya Mpatanishi Mteule." Professional Mediators are a breath of fresh air of trust and a new vision of hope. @WASILIANAHUB I Enriching Lives: Build Better.
To connect:
e: wasilianahubmediatorsafrica@gmail.com
To learn about MARC -The Mediation Manager: A Mediators listing service visit:
w: wasilianahubmediators.co.ke
MEDIATION AFRICA FORUM (MAF)
CONFLICT TRANSFORMATION APRIL CLEE SERIES 2021.
EFFECTIVE MEDIATOR MASTERCLASS
ZOOM LIVE ONLINE EVENT
SESSION: MASTERCLASS ON ABUSE WITH PATRICIA OKETCH
DATE: THURSDAY APRIL 22
TIME: 2PM - 4PM NAIROBI EAT
T&C: RECORDED
Suitable For: Mediation & Dispute Resolution (MDR) Professionals.
THURSDAY APRIL 22
TOPIC: ABUSE
FACILITATOR PATRICIA OKETCH
Counselling Psychologist | Mediator
Take Away: Theory & Practice
√ Types, causes and perspectives
√ Family, workplace, community
√ Interventions and recovery
√ Manifestation in conflict
√ Skills during mediation
Register in advance for this meeting:
https://us02web.zoom.us/meeting/register/tZYlduuoqjgjHNSY-PBtz11FNU-_gMjr_yo2
After registering, you will receive a confirmation email containing information about joining the meeting.
About The Continuous Learning Events
Continuous Learning Education and Experiential (CLEE).
Pro Mediator Listed: CLEE certificate issued in your MARC The Mediation Manager platform digital account.
The MARC Manager
We are a listing service for East Africa's premier mediators (and broadly Africa). Your one stop link to an accessible and verified mediator, to a mediation agency and to the mediation center nearest to you. Connecting communities, businesses, families and nations in dispute with accessible and verified mediators.
Pro Mediators: The most up-to-date annual subscription self-listing service for the practitioners available 24/7/365 at: www.wasilianahubmediators.co.ke
About The Networking Events
Throughout the year, the WASILIANAHUB mediators community creates opportunities to engage through meetups in-person and virtual. WASILIANAHUB hosts a Mediation Day Symposium every quarter and the annual Strategy 20 Conference now hosted within the African International Mediation (AIM) Week.