THE EFFECTIVE MEDIATOR MASTERCLASS
MY WELLNE$$ SERIES
The focus on 'My Wellness' for the Effective Mediator at WASILIANAHUB 
will enhance well-being - a state of living for practitioners, 
in turn, their practice and positioning 
which has ripple benefits evidenced in clients experiences and outcomes.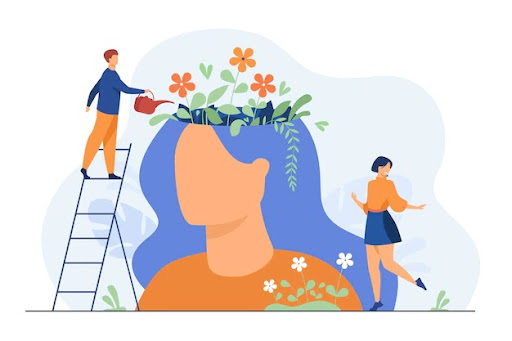 The seven core dimensions of wellness are interlinked, interdependent, and influence each other; mental, physical, social, financial, spiritual, environmental, and vocational. 
In The Effective Mediator My Wellness Series, you will find resources to help improve:
the quality of your life; 

your private mediation practice;

and client experience.
Check up on the upcoming events with Masterclass Leaders and guests with tips to water your well-being and to water the well-being of others.
To find a mediator in Kenya visit: WASILIANAHUBMEDIATORS.CO.KE
***
REGISTER FOR: My Wellness Series - Me $ My Mental Hygiene on Saturday July 30 2022 At 01:00 PM EAT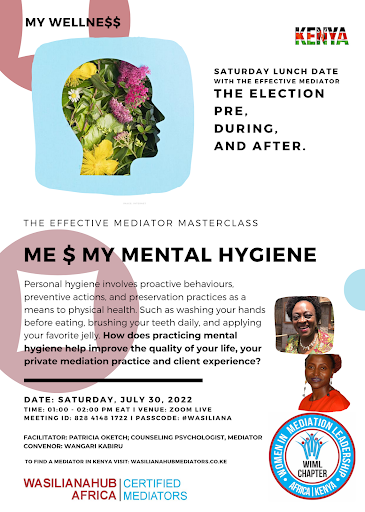 Personal hygiene involves proactive behaviours, preventive actions, and preservation practices as a means to physical health. Such as washing your hands before eating, brushing your teeth daily, and applying your favorite jelly. How does practicing mental hygiene help improve the quality of your life, your private mediation practice and client experience?
DATE: SATURDAY, JULY 30, 2022
TIME: 01:00 - 02:00 PM EAT I VENUE: ZOOM LIVE
MEETING ID: 828 4148 1722 I PASSCODE: #WASILIANA
FACILITATOR: PATRICIA OKETCH; COUNSELING PSYCHOLOGIST, MEDIATOR
CONVENOR: WANGARI KABIRU
Register in advance for this meeting:
https://us02web.zoom.us/meeting/register/tZYlc-ispjotGNbqgJxdyWd_yIYfylVfzktk
After registering, you will receive a confirmation email containing information about joining the meeting.
***
@Wasilianahub I Enriching Lives:Build Better meetup, is an open platform where we learn from speakers, experts in their fields and peers. You get the chance to meet peers and most of all we hope that you build collaborations based on your areas of interest.    
"The whole world system has shifted to the next. The next is about you, your unique genius gifts, and you are unlimited. We know this."
#YOTEM
YEAR OF THE EFFECTIVE MEDIATOR
Are you ready to reset to Enrich Lives:Build Better? 
Then let's go!
"Our people are suffering because they do not know that we (mediators) exist." - Reverend Fr. Prof. Peter Ignatius Gichure 
Most of all, make the best use of this one-of-a-kind community.
PS: Thank you for registering for the events. We keep a record of the basic information on the participants at each meeting hosted via this platform. Everyone is a VIP at WASILIANAHUB and partner events.
*******  
God bless you.
WASILIANAHUB Community
e: wasilianahubmediatorsafrica@gmail.com