Painting The Leopard With Green Spots Part-1
Embedding Mediation Education and Teaching in The Training of Lawyers
Law school faculties must adjust their legal education curriculum to the times.
Part1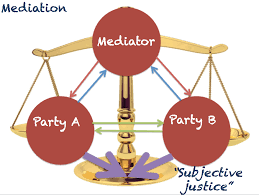 Taming the unforgiving mother nature
Climate change, climate adaptation, degradation, go green and sustainability are buzz words running from your large scale manufacturing plant to your average farmer and they have even found their way into the education of a generation of green fingered school kids.
A decade or two ago, this was lone terrain for climate change advocates, adorned in placards streaming the streets at major United Nations meetings, unashamedly gate crashing at the major and 'not so major' governments meetings and not to mention, swinging over the high security gates of the then deaf affluent corporations.
Today, conglomerates compete to release six-inch sustainability reports, a good chunk of which cover their responsible business practice, inclusivity programs and funding allocation to protect the future of nature and humanity that only God really knows about.
So what and who changed? Did the climate change advocates run themselves hoarse over business magnates? Or did the gods of boardroom nobility bring them eagerly to the table?
In reflection, it is back to the context, it was not a matter of what, but when!
When would mother nature call on the skies to break open with abandon, letting waters to flow unforgivingly upon persons and creatures without differentiation? When would mother nature stride and beckon all the waters down into her unreachable bowels? When would mother nature lay bare for the sun to scathingly scorch every being resting on it? When would mother earth stubbornly close her womb, not birth and unblinking, watching over beings starve? When would mother earth watch, without a tear, with a vultures smile as they lay in decay one after the other on the surface of it! Only a matter of when, not if.
Sadly, this aloof man, with a mother nature can adapt attitude has been designed and propagated in this generation in the search for and quest for justice.
Rescuing our approach to justice
'Kesho ni siku ya kotini, niamshe mapema ndio nipate gari ya saa kumi na moja asubuhi'. 'Wakili huyo mwingine aliomba postponement tena'. 'Judge ako leave'. 'Prosecutor hakukuja leo kwasababu wamepelekwa training majuu'. 'Nasakanya ganje nitoe bro na bond kwa madanse'. 'Niitie msichana wa John anieleze hii barua ya kotini inasema nini'. 'File bado imepotea'. 'Askari amesema karani amesema judge amesema watu wangoje nje'.
Sadly, such statements have crossed through myriads of people in their quest for justice.
The 2017 Justice Needs and Satisfaction in Kenya study, a report by HiiL with a citizen-centric bottom-up approach 'hearing Wanjiku' reaching to 6005 respondents highlighted the pervasive and ever growing justice needs in Kenya. According to the study, between 17.2 and 17.9 million Kenyans had experienced a legal problem in the past four years which is almost two out of three people in Kenya (63%).
Whether by design or default, courts, the delegated heartbeats of justice, have fallen internationally, into a deeper dungeon of injustice. Other grassroots agencies supportive and reliant, including in Kenya, the local administration chiefs, police, religious leaders and elders have their own measures of successes and challenges. Collectively there is a crying appeal and its thunder cannot hold much longer.
It is not surprising that the same delegated centres of justice are drivers to the new narrative. Showing again that all along, it was not a matter of what, but when!
Breaking the camel's back
2019 has witnessed a flurry of activity in the access to justice narrative in Kenya which may signify the 'progressive breaking of the camel's back'. From the Nairobi Centre for International Arbitration (NCIA) hosting National Alternative Dispute Resolution Policy regional forums; the Senate Alternative Dispute Resolution Bill; to the Judiciary of Kenya Taskforce on Traditional, Informal and Other Mechanisms Used to Access Justice (Alternative Justice Systems). 'When it drizzles, take cover or at the very least, buy an umbrella. For the tsunami is coming." – African proverb.
A new approach in the form of mediation is beckoning. Professional Mediation is a structured and participatory mechanism whereby the disputants engage with one another voluntarily, with their interests at the fore-front, supported by a specially trained neutral third party. This has led to the credits to mediation of speed, reduced complexity, cost effectiveness and maintaining of existing relationships.
This means that professional mediation and other mechanisms that bring justice closer and into the parties hands, are certainly not an alternative and should not be seen as such even in the training of those to whom providing of justice is delegated to. As the Solicitor General in his opening message to the NCIA National ADR Policy validation forum aptly pointed out, ADR is 'Appropriate Dispute Resolution'.
CPM Wangari Kabiru, Chartered Mediator. Ms. Wangari is a practitioner who advocates for greener practice and enjoys time as a game design thinker. This article was first published in the blog www.wasilianahubmediators.co.ke, 2018 HiiL Innovating Justice finalist. @wasilianahub.