MJADALA ON THE NEW SENATE ADR BILL 2021 – MEDIATION AS THE ALTERNATIVE FOR WHAT FOR KENYANS
KENYA MEDIATION POLICY OPEN HOUSE
Have Your Say. What would Wanjiku, Maria, Chep, Amina, Atis, Pato, Ole, Ken, Musa, Johny...say?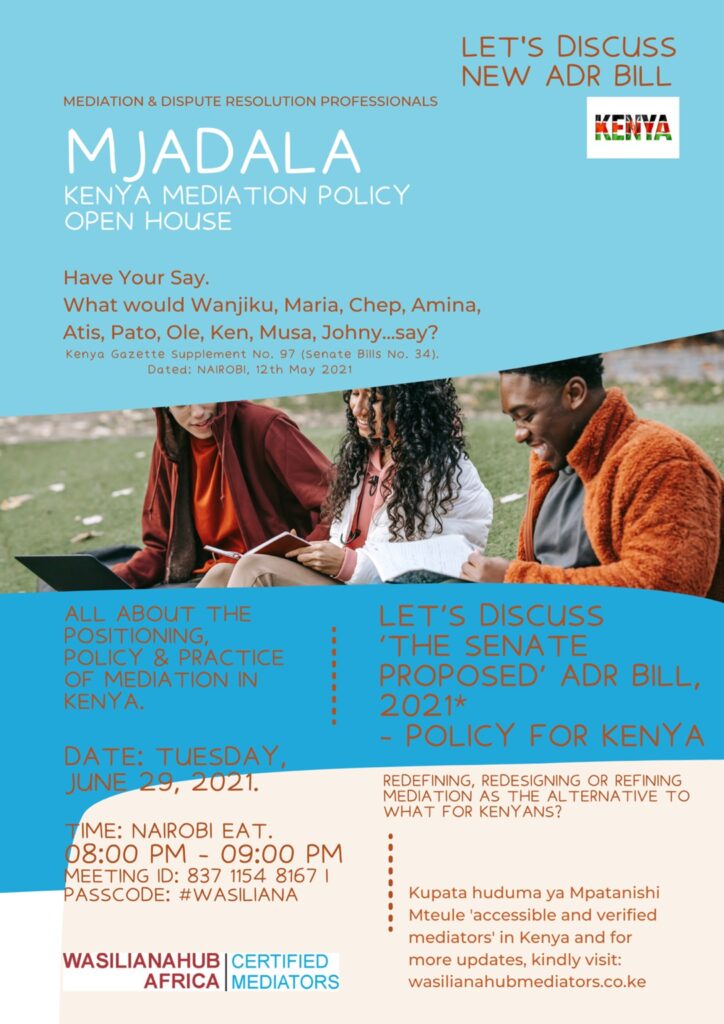 MJADALA
KENYA MEDIATION POLICY OPEN HOUSE
TUESDAY, JUNE 29, 2021
08:00 PM - 09:00 PM NAIROBI, EAT
WASILIANAHUBMEDIATORS.CO.KE
Mjadala: Open House.
Let's Discuss 'The Senate Proposed' ADR Bill - Policy for Kenya: Redefining, Redesigning or Refining Mediation As The Alternative To What For Kenyans?
Register here (ZOOM Link), 06:00 PM - 08:00 PM Nairobi, EAT:
https://us02web.zoom.us/meeting/register/tZcqduitqjMrHNPsSED8vfR5KMPYZURS15Tv
**Access the document here:
https://wasilianahubmediators.co.ke/kenya-policy-section-copy-of-34-the-alternative-dispute-bill-2021-senate-kenya-2021-new-adr-bill_wh-copy-in-june-2021/
**Made available for peer learning only. For the official document, enquiries, and technical queries, we recommend that you visit the relevant government office(s) or source office(s).
###
"Huduma ya Mpatanishi Mteule." Professional Mediators are a breath of fresh air of trust and a new vision of hope. @WASILIANAHUB I Enriching Lives: Build Better.
To connect:
e: wasilianahubmediatorsafrica(a)gmail.com
To learn about MARC -The Mediation Manager: A Mediators listing service visit:
w: wasilianahubmediators.co.ke
WASILIANAHUB is creating a society in which all people have access to use neutral options in resolving conflict and the ability to achieve sustainable outcomes that enrich lives. A community of professional mediators dedicated to increasing the understanding and use of professional mediation by building Africa's largest portal of mediators, starting off from Kenya. We are enriching lives; relationship building, resource efficiency, public image and peace. wasilianahubmediators.co.ke.