MJADALA ON THE JUDICIARY OF KENYA STANDARDISATION OF MEDIATION TRAINING IN KENYA IN 2021
KENYA MEDIATION POLICY OPEN HOUSE
Have Your Say. What would Wanjiku, Maria, Chep, Amina, Atis, Pato, Ole, Ken, Musa, Johny...say?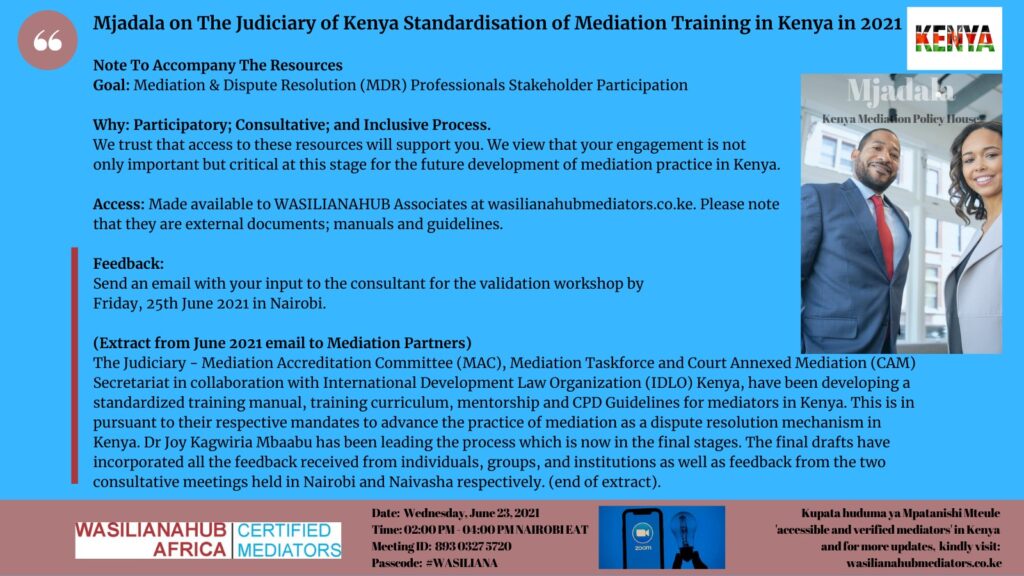 MJADALA
KENYA MEDIATION POLICY OPEN HOUSE
WEDNESDAY, JUNE 23, 2021
02:00 PM - 04:00 PM NAIROBI, EAT
WASILIANAHUBMEDIATORS.CO.KE
Goal: Mediation & Dispute Resolution (MDR) Professionals Stakeholder Participation
A Note To Accompany The Resources
Goal: Mediation & Dispute Resolution (MDR) Professionals Stakeholder Participation
Why: Participatory; Consultative; and Inclusive Process.
We trust that access to these resources will support you. We view that your engagement is not only important but critical at this stage for the future development of mediation practice in Kenya.
Access: Made available to WASILIANAHUB Associates at wasilianahubmediators.co.ke. Please note that they are external documents; manuals and guidelines.
Feedback:
Send an email with your input to The consultant or the validation workshop by Friday, 25th June 2021 in Nairobi.
(Extract from June 2021 email to Mediation Partners)
The Judiciary - Mediation Accreditation Committee (MAC), Mediation Taskforce  and Court Annexed Mediation (CAM) Secretariat in collaboration with International Development Law Organization (IDLO) Kenya, have been developing a standardized training manual, training curriculum, mentorship and CPD Guidelines for mediators in Kenya. This is in pursuant to their respective mandates to advance the practice of mediation as a dispute resolution mechanism in Kenya. Dr Joy Kagwiria Mbaabu has been leading the process which is now in the final stages. The final drafts have incorporated  all the feedback received  from individuals, groups, and institutions as well as feedback from the two consultative meetings held in Nairobi and Naivasha respectively. (end of extract).
Register here (ZOOM Link), 02:00 PM - 04:00 PM Nairobi, EAT:
https://us02web.zoom.us/meeting/register/tZ0ud-qqqT4tGNS1KtbUa5SOyWYHMIHJw1qH
After registering, you will receive a confirmation email containing information about joining the meeting.
**Access the document here:
Kenya Policy Section
***
"Huduma ya Mpatanishi Mteule." Professional Mediators are a breath of fresh air of trust and a new vision of hope. @WASILIANAHUB I Enriching Lives: Build Better.
Documents, links and 3rd party information: Made available for peer learning only. For the official document, enquiries, and technical queries, we recommend that you visit the relevant government office(s) or source office(s).
To connect: e: wasilianahubmediatorsafrica(a)gmail.com
To learn about MARC -The Mediation Manager: A Mediators listing service visit:
w: wasilianahubmediators.co.ke