MEDIATOR MASTERCLASS ON MEDIATING HIGH-CONFLICT PERSONALITIES WITH PATRICIA OKETCH & CATHERINE WARUI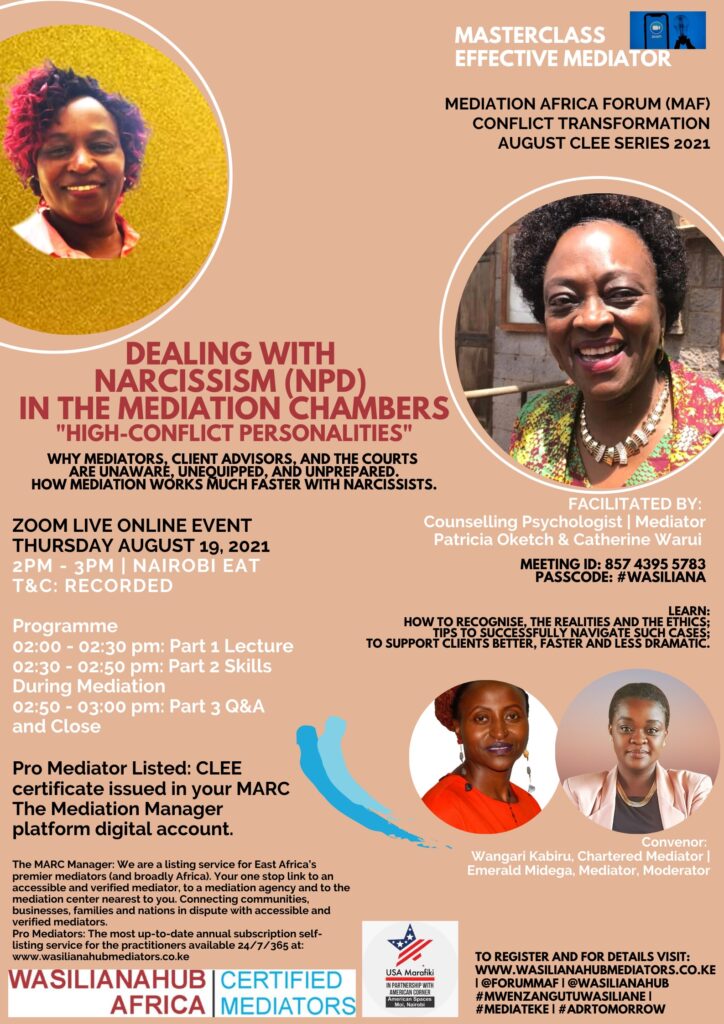 MEDIATION AFRICA FORUM (MAF) CONFLICT TRANSFORMATION AUGUST CLEE SERIES 2021.
DEALING WITH NARCISSISM (NPD) IN THE MEDIATION CHAMBERS
"HIGH-CONFLICT PERSONALITIES"
WHY MEDIATORS, CLIENT ADVISORS, AND THE COURTS ARE UNAWARE, UNEQUIPPED, AND UNPREPARED. HOW MEDIATION WORKS MUCH FASTER WITH NARCISSISTS.
How does the Effective Mediator handle these "high-conflict personalities" who:
1. Thrive on conflict;
2. Find the courtroom as their stage to shine at;
3. Yet there's no "cure" for persons with NPD.
What's the narcissistic's magic wand?
FACILITATED BY:
Counselling Psychologist | Mediator
Patricia Oketch & Catherine Warui
EFFECTIVE MEDIATOR MASTERCLASS
ZOOM LIVE ONLINE EVENT
THURSDAY AUGUST 19, 2021
2PM - 3PM | NAIROBI EAT
T&C: RECORDED
Programme
02:00 - 02:30 pm: Part 1 Lecture
02:30 - 02:50 pm: Part 2 Skills During Mediation
02:50 - 03:00 pm: Part 3 Q&A and Close
LEARN:
HOW TO RECOGNISE, THE REALITIES AND THE ETHICS;
TIPS TO SUCCESSFULLY NAVIGATE SUCH CASES;
TO SUPPORT CLIENTS BETTER, FASTER AND LESS DRAMATIC.
'Defines Narcissistic Personality Disorder (NPD) as "a mental condition in which a person has an inflated sense of their own importance, a deep need for excessive attention and admiration, troubled relationships, and a lack of empathy for others."'- The Mayo Clinic.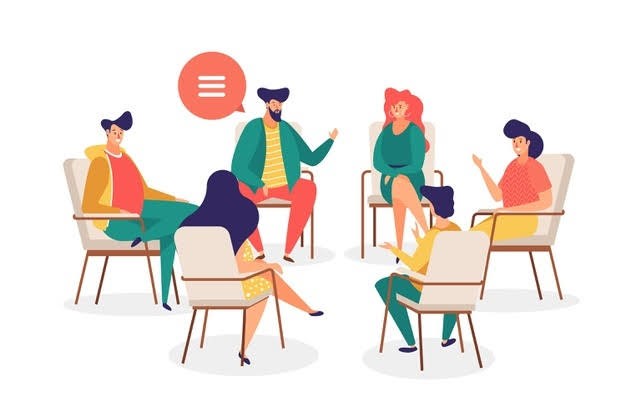 You are invited to a Zoom meeting.
When: Aug 19, 2021 02:00 PM Nairobi
Register in advance for this meeting:
https://us02web.zoom.us/meeting/register/tZEqc-qhqz4tEtdcQ2zaF9JT-x_7BXt2OnKp
After registering, you will receive a confirmation email containing information about joining the meeting.
Convenor:
Wangari Kabiru, Chartered Mediator | Emerald Midega, Mediator, Moderator.
Learn At: WASILIANAHUBMEDIATORS.CO.KE
PROGRAM ON CONFLICT TRANSFORMATION
PS: Thank you for registration. We keep a record of the basic information on the participants at each meeting hosted via this platform.
Access resources: wasilianahubmediators.co.ke.
Thank you for joining us. God bless you.
###
About The Continuous Learning Events
Continuous Learning Education and Experiential (CLEE).
Pro Mediator Listed: CLEE certificate issued in your MARC The Mediation Manager platform digital account.
The MARC Manager
We are a listing service for East Africa's premier mediators (and broadly Africa). Your one stop link to an accessible and verified mediator, to a mediation agency and to the mediation center nearest to you. Connecting communities, businesses, families and nations in dispute with accessible and verified mediators.
Pro Mediators: The most up-to-date annual subscription self-listing service for the practitioners available 24/7/365 at: www.wasilianahubmediators.co.ke
About The Networking Events
Throughout the year, the WASILIANAHUB mediators community creates opportunities to engage through meetups in-person and virtual. WASILIANAHUB hosts a Mediation Day Symposium every quarter, June is YMM Month, November is Women In Mediation Leadership (WIML) Month, and the annual Strategy 20 Conference now hosted within the African International Mediation (AIM) Week.
###
"Huduma ya Mpatanishi Mteule." Professional Mediators are a breath of fresh air of trust and a new vision of hope. @WASILIANAHUB I Enriching Lives: Build Better.
To connect:
e: wasilianahubmediatorsafrica(a)gmail.com
To learn about MARC -The Mediation Manager: A Mediators listing service visit:
w: wasilianahubmediators.co.ke