Madaraka Day Celebrations 2021: Devolving Mediation With CAMP Kenya Mediation
Madaraka Day Celebrations 2021: Devolving Mediation With CAMP Kenya Mediation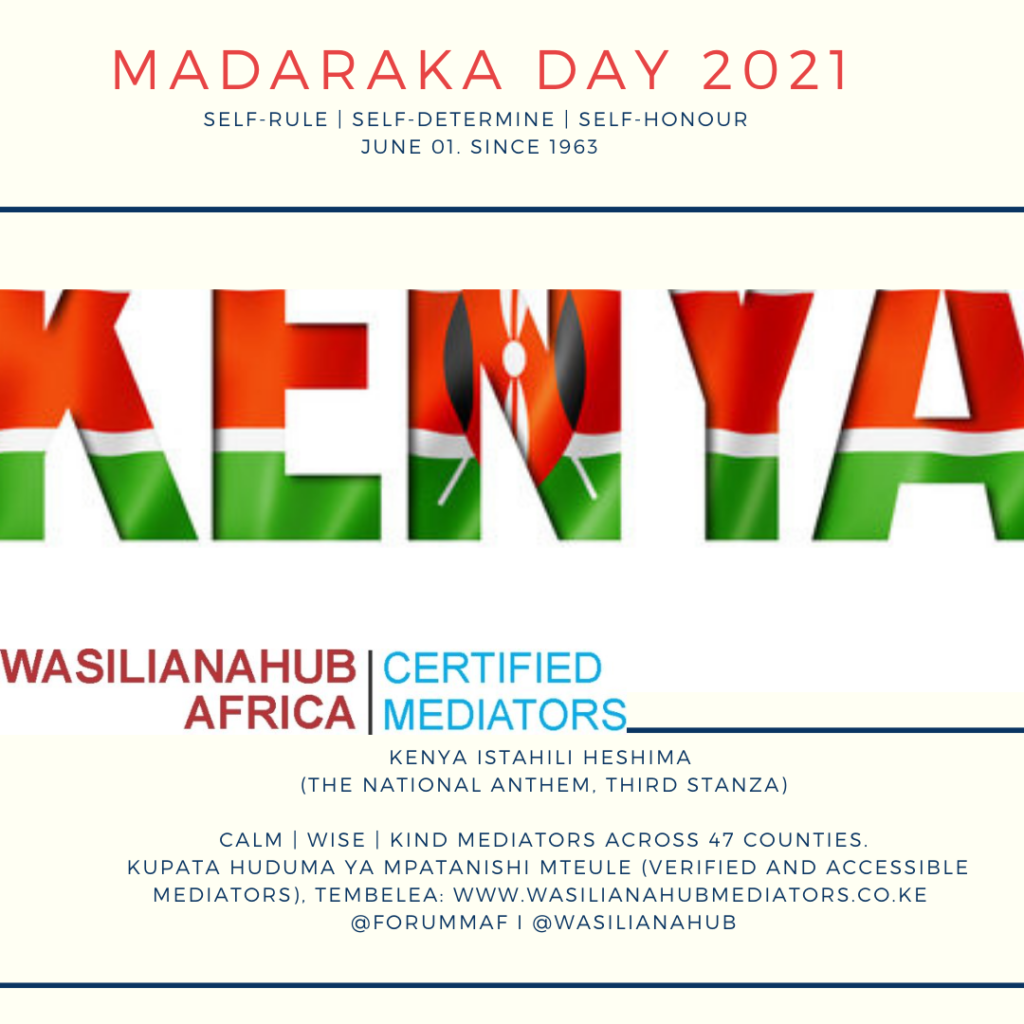 - As  Kenyans celebrate the 58th Madaraka Day, we explore 'madaraka terminology' and mediation.
County to County
Be part of CAMP Kenya. Learn more: https://tinyurl.com/ekjumbtp
Siku ya Madaraka ni sikukuu ya kitaifa inayoadhimishwa kila Juni 1 ya kila mwaka katika Jamhuri ya Kenya. Ni kumbukumbu ya siku ya mwaka 1963 ambayo Kenya ilipata utawala wa kibinafsi baada ya kuwa koloni la Briteni tangu 1920. Madaraka ni neno la Kiswahili kwa "mamlaka, mamlaka ya kutawala". (Wikipedia (Kiswahili)).
Self-rule
NOUN
Another term for self-government
Self-government
VERB
1 Government of a country by its own people, especially after having been a colony.
2 Old-fashioned term for self-control
Self-determine
VERB
1 To determine (something) for oneself without external influence or control.
2 To determine one's own form of government or course of life; to practise self-determination.
(Self) Honour
NOUN
1 High respect; great esteem.
2 The quality of knowing and doing what is morally right.
3 Something regarded as a rare opportunity and bringing pride and pleasure; a privilege.
(Oxford Lexico.com).
Be part of CAMP Kenya. Learn more: https://tinyurl.com/ekjumbtp
###
"Huduma ya Mpatanishi Mteule." Professional Mediators are a breath of fresh air of trust and a new vision of hope. @WASILIANAHUB I Enriching Lives: Build Better.
To connect:
e: wasilianahubmediatorsafrica(a)gmail.com
To learn about MARC -The Mediation Manager: A Mediators listing service visit:
w: wasilianahubmediators.co.ke
WASILIANAHUB is creating a society in which all people have access to use neutral options in resolving conflict and the ability to achieve sustainable outcomes that enrich lives. A community of professional mediators dedicated to increasing the understanding and use of professional mediation by building Africa's largest portal of mediators, starting off from Kenya. We are enriching lives; relationship building, resource efficiency, public image and peace. wasilianahubmediators.co.ke.