KENYAN WOMEN AS PROFESSIONAL MEDIATORS' AGENDA – BREAKOUT THEMATIC AREAS DISCUSSION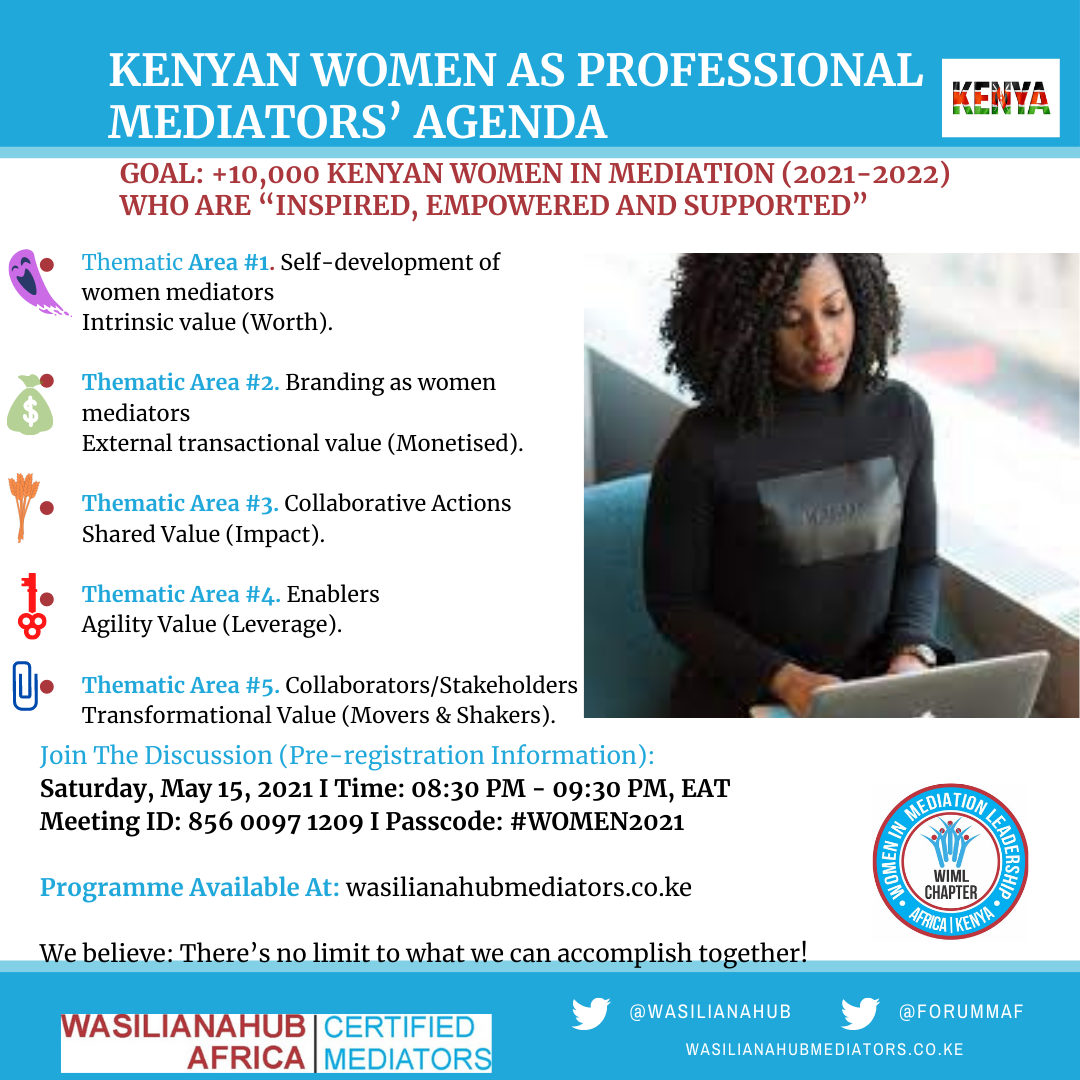 KENYAN WOMEN AS PROFESSIONAL MEDIATORS' AGENDA – BREAKOUT THEMATIC AREAS DISCUSSION 
EVENT INFORMATION
Date: Saturday 15/05/2021
Time: 08:30 – 09.30 PM
Location: Virtual Meeting (ZOOM pre-registration)
Format: Breakout Rooms
Participants at the meeting will seek to share ideas on the SMART Actions related to the five (5) thematic areas of the 'Kenyan Women As Professional Mediators' Agenda'.
Invite: Co-creation by peer mediators. Extend this invite to your network of mediators.
Registration Link:
You are invited to a Zoom meeting.
When: May 15, 2021 08:30 PM Nairobi
Register in advance for this meeting:
https://us02web.zoom.us/meeting/register/tZErd-mhqTooGt0X6fDDe4e1lYbna30-lB_x
After registering, you will receive a confirmation email containing information about joining the meeting.
Access the meeting programme and proceedings from the previous events here:
https://wasilianahubmediators.co.ke/kenyan-women-as-professional-mediators-agenda/
(This is a one-time ZOOM registration link used for all the Women AGENDA Saturdays. Check your email for the link to join the meeting).
KENYAN WOMEN AS PROFESSIONAL MEDIATORS' AGENDA
GOAL: +10,000 KENYAN WOMEN IN MEDIATION (2021-2022) WHO ARE "INSPIRED, EMPOWERED AND SUPPORTED"        
OBJECTIVE: Strategic Positioning of Kenyan Women Mediators to Influence The Practice of Mediation in Kenya and the Mediation Profession Internationally.
PURPOSE: Conflict Transformation in Society; Understanding, Approach and Settlement. (our why?)                   
TAGLINE: WAJUE!!! (about mediation) NA WAKUJUE!!! (as a mediator)
CULTURE: Respect, Collaboration, Togetherness
THEMATIC AREAS:     
Thematic Area #1. Self-development of women mediators
Intrinsic value (Worth).
Thematic Area #2. Branding as women mediators
External transactional value (Monetised).
Thematic Area #3. Collaborative Actions
Shared Value (Impact).
Thematic Area #4. Enablers
Agility Value (Leverage).
Thematic Area #5. Collaborators/Stakeholders
Transformational Value (Movers & Shakers).
 ###
"Huduma ya Mpatanishi Mteule." Professional Mediators are a breath of fresh air of trust and a new vision of hope. @WASILIANAHUB I Enriching Lives: Build Better.
To connect: e: wasilianahubmediatorsafrica(a)gmail.com
To learn about MARC -The Mediation Manager: A Mediators listing service visit: