IN THE YEAR OF THE EFFECTIVE MEDIATOR: JUNE 2022 COMMUNITY MEDIATION AWARENESS SHOWCASE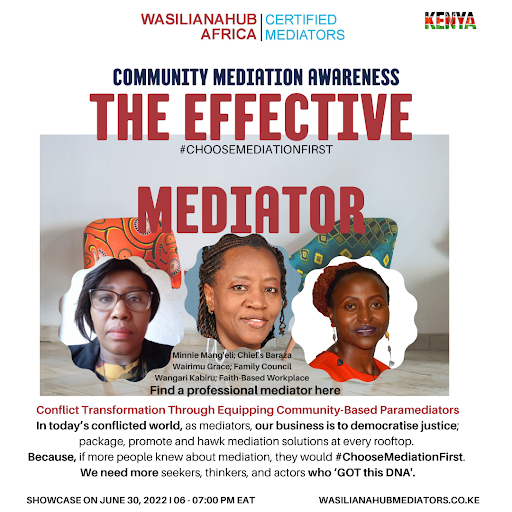 Package Mediation Solutions: How we do it. How do you do it?
When: June 30, 2022 06:00 - 07:00 PM Nairobi EAT
*In equipping community paramediators, Trusted Messengers have the technical expertise, cultural awareness and partnership acceptance by Community Champions.
Registration Information
Meeting ID: 816 4392 4500 I Passcode: FTDS012022 
You are invited to a Zoom meeting. 
When: June 30, 2022 06:00 - 07:00 PM Nairobi EAT I Venue: ZOOM Live
Learn more and Register in advance for this meeting:
https://us02web.zoom.us/meeting/register/tZUrc-qhrD8vGtT74Nt52erMVtnbDsvcjMSt
After registering, you will receive a confirmation email containing information about joining the meeting.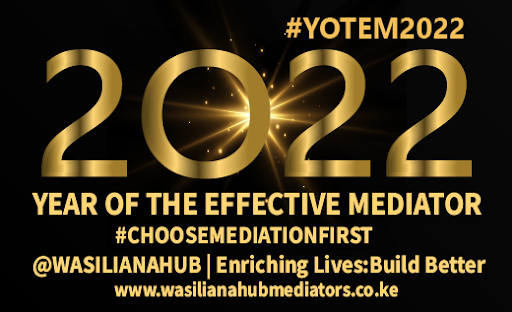 "Our people are suffering because 
they do not know that we (mediators) exist."
— Rev. Fr. Prof. Peter Ignatius Gichure (2020).
GOAL: CONDUCT A MEDIATION AWARENESS SESSION TO A COMMUNITY GROUP
Have you identified the local Community Group to conduct your mediation awareness session? *Approach the Community Champion, co-create for immersion and host the field experiential with a community paramediators group or a school paramediators club.
Learn About The Effective Mediator Facilitation and Training Development Skills 
https://wasilianahubmediators.co.ke/wasilianahub-track-3-course-1-ftd-skills-the-effective-mediator-april-2022/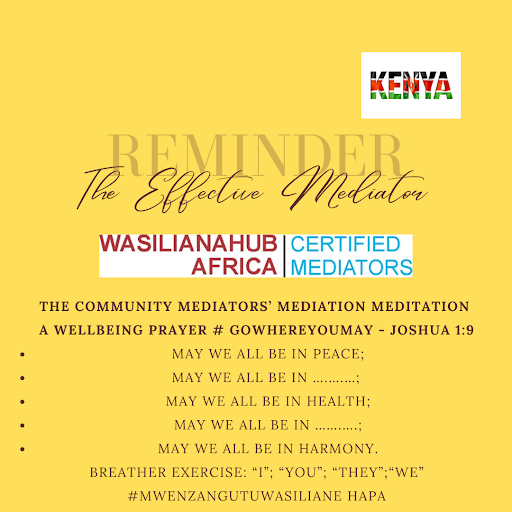 In today's conflicted world, as mediators, our business is to democratise justice; package, promote and hawk mediation solutions at every rooftop. Because, if more people knew about mediation, they would #ChooseMediationFirst. We need more seekers, thinkers, and actors who 'GOT this DNA'.
Find A Mediator in Kenya
https://wasilianahubmediators.co.ke/mediators/
Most of all, make the best use of this one-of-a-kind community.
PS: Thank you for registering for the events. We keep a record of the basic information on the participants at each meeting hosted via this platform.
*******  
God bless you.
WASILIANAHUB Community
e: wasilianahubmediatorsafrica(a)gmail.com