Feel At Home Women's Day Virtual Closing Party Kenya. #IWD2021 WEEK
#IWD2021 WEEK: FEEL AT HOME WOMEN'S DAY VIRTUAL CLOSING PARTY KENYA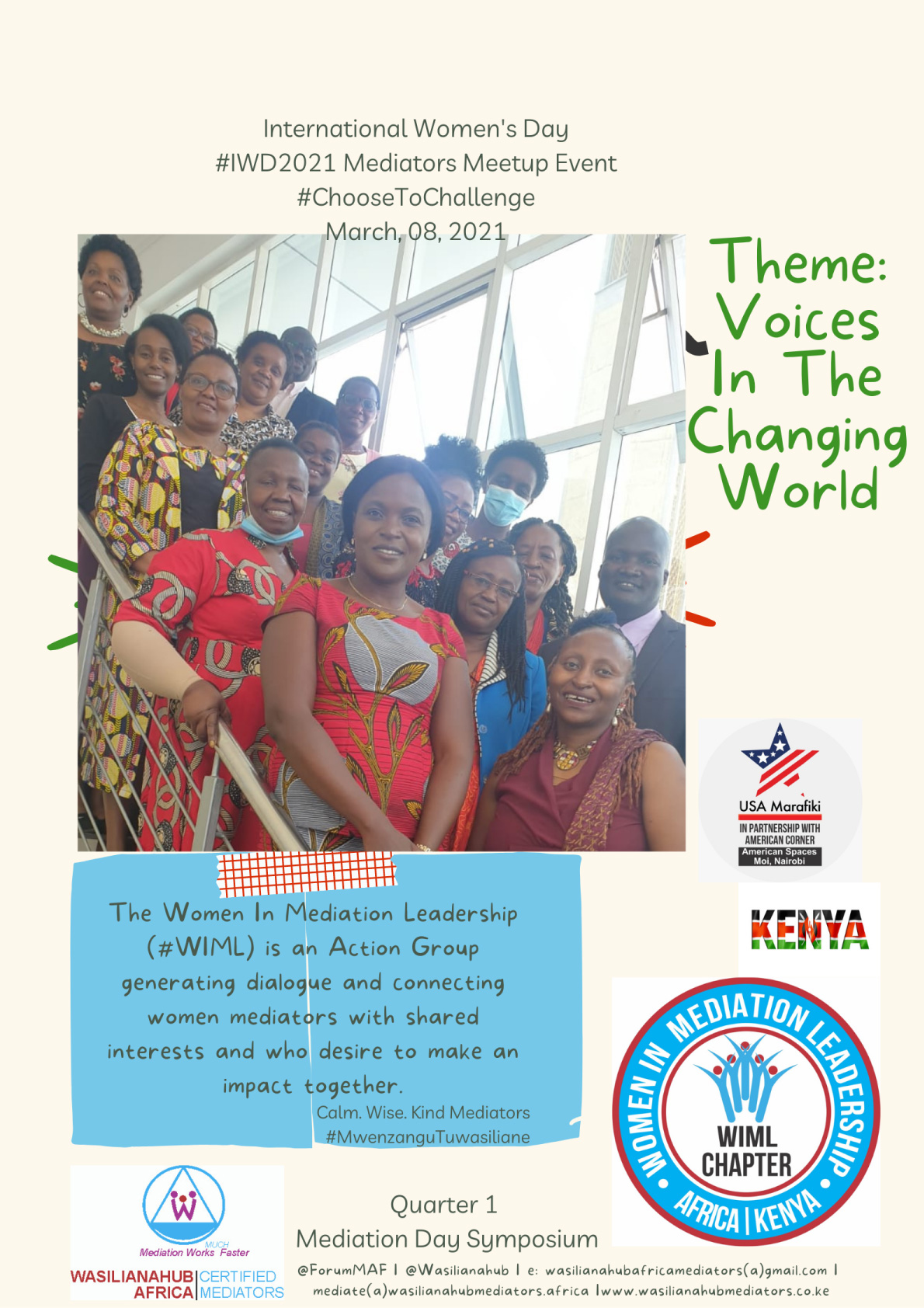 Suitable For: Mediation & Dispute Resolution (MDR) Professionals.
Date: Saturday, March 13th 2021
Time: 08:00 PM - 09:00 PM
Venue: ZOOM Live
Nature of Event: Discussions.
Attendees: Register. Audio and video enabled.
Theme
"Voices in the Changing World: The Pivotal Role of Women Mediators in Kenya.
Aligned to the International Women's Day hashtag #ChooseToChallenge.
Theme Discussion Guide
Why, What, Where, Whom, When, and How.
Register in advance for this meeting:
https://us02web.zoom.us/meeting/register/tZwof-CvqT4tGdCxxIw9PB01HHZOkBUPIthV
After registering, you will receive a confirmation email containing information about joining the meeting.
Brief
We hope you have a good #IWD Week.
This Saturday evening is a virtual Open Day for mediators networking to share their interests. This is the final open event hosted in the build up to #IWD.
* What are you doing?
**Fellow mediators?
Such platforms give you a chance to find other people to collaborate with.
Especially for the women mediators who are forming subgroups and major groupings.
*Open to all mediators.
**We may also hear from some of the International Women's Day attendees on their individual take-aways.
***Thank you to all the ladies at the virtual and physical events hosted in the build up to #IWD.
Feel at home Women's Day closing party on 13.03.2021 at 8:00pm on Zoom.
Stay blessed🙏🏾
**In-person event hosted on Monday, March 08, 2021. Guest Speaker: Hon. Moses W. Wanjala. Magistrate and Registrar Mediation Accreditation Committee. Office of The Chief Justice, The Judiciary of Kenya.
About The Networking Events
Throughout the year, the WASILIANAHUB mediators community creates opportunities to engage through meetups in-person and virtual. WASILIANAHUB hosts a Mediation Day Symposium every quarter and the annual Strategy 20 Conference now hosted within the African International Mediation (AIM) Week.
Reach to us:
e: wasilianahubmediatorsafrica(a)gmail.com
To learn about MARC -The Mediation Manager: A Mediators listing service visit:
w: wasilianahubmediators.co.ke
###
Event Convening Team: The Women In Mediation Leadership (#WIML) is an Action Group generating dialogue and connecting women mediators with shared interests and who desire to make an impact together. The #WIML hosts two main convenings annually: March International Women's Day and November is Women In Mediation Leadership Month.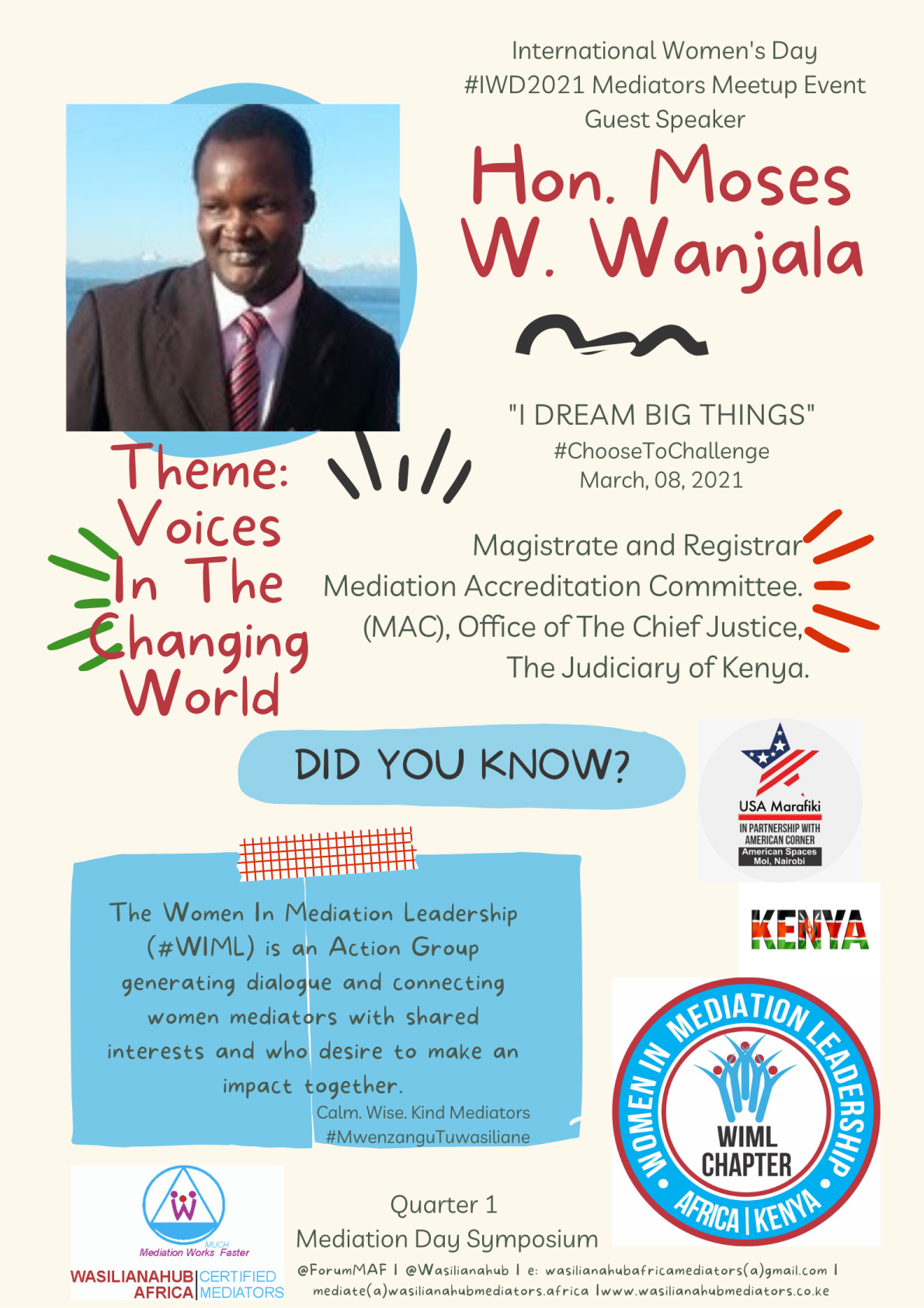 Appreciation for Support
The Women In Mediation Leadership (#WIML) Kenya Action Group is pleased to host the March 2021 Quarter 1 Symposium Day blended event (in-person and virtual) on the occasion of the International Women's Day (#IWD2021). The quarter one Mediation Day Symposium hosted in the month of March 'fits snuggly' and has since become the International Women's Day event for the mediation community in Kenya. In 2020, the International Women's Day mediators meetup convening by The Women In Mediation Leadership (#WIML) on March 11th was hosted with the collaborating partner; American Spaces Moi Nairobi.