The Utatuzi Center Virtual ADR Week and Legal Aid
Upcoming Event: 
CUEA Director for Post Graduate Studies and WASILIANAHUB at The 
Utatuzi Center Virtual ADR Week and Legal Aid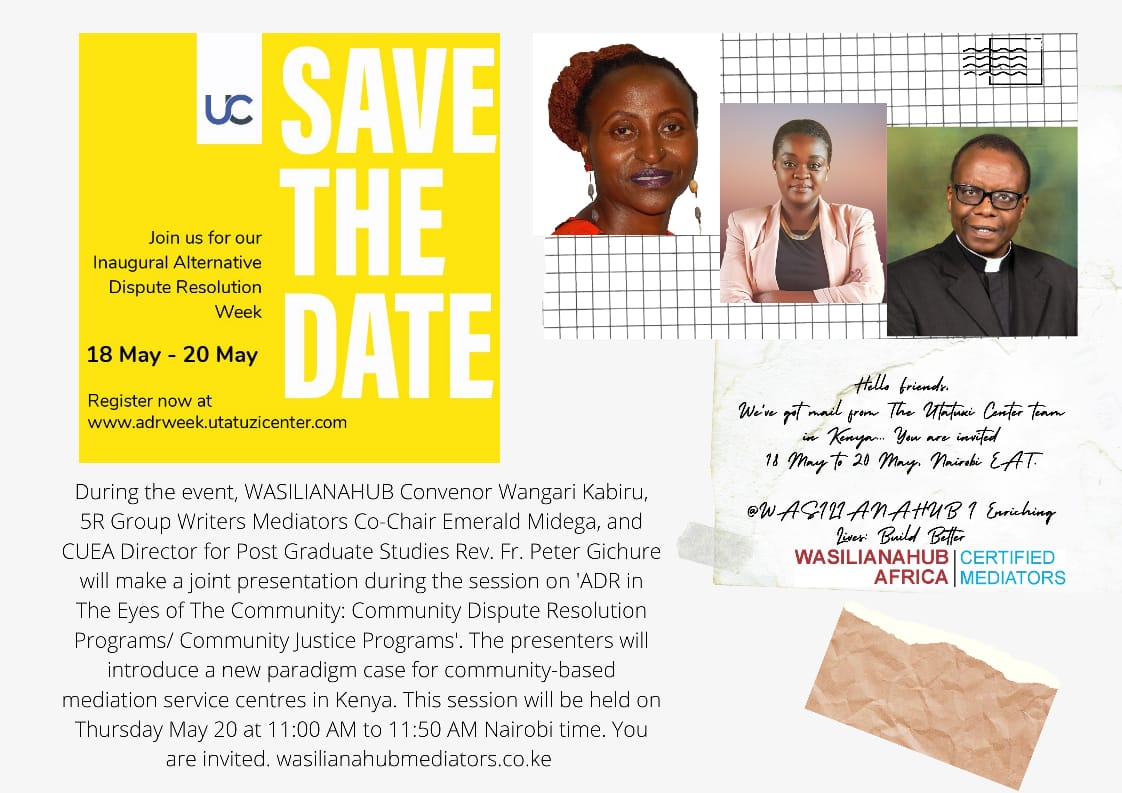 The WASILIANAHUB Community looks forward to participating at the ADR Week and congratulates the Utatuzi Center team as the team adds to the breath of fresh air into the mediation ecosystem in Kenya and Africa.
Date: May 18 to May 20 2021
Venue: Online
WASILIANAHUB, including CUEA Center for Social Justice & Ethics (CSJE) are pleased to cooperate at the upcoming inaugural event by Utatuzi Center in Kenya. The event will run from Tuesday May 18 to Thursday May 20 2021.
During the event, WASILIANAHUB Convenor Wangari Kabiru, 5R Group Writers Mediators Co-Chair Emerald Midega, and CUEA Director for Post Graduate Studies Rev. Fr. Peter Gichure will make a joint presentation during the session on 'ADR in The Eyes of The Community: Community Dispute Resolution Programs/ Community Justice Programs'. The presenters will introduce a new paradigm case for community-based mediation service centres in Kenya. This session will be held on Thursday May 20 at 11:00 AM to 11:50 AM Nairobi time. You are invited.
The session will:
1. Provide new skills to mediation and dispute resolution professionals on conflict transformation;
2. Explore international models of community mediation service centres that have enabled mediators and mediation centres to be the most accessible, trusted, and prefered go-to choice;
3. Inspire practicing mediators to collaborate in the design of a countrywide network of community mediation service centres through strategic collaborations with donors and other partners; establishment of centres, service portfolio and funding that would transform systems.
4. Shed light on how the centres serve as the most suitable approach to deliver the mix of dispute/justice systems to the citizens including; private mediation and ADR mechanisms out-of-court, Cultural and Traditional Systems, Alternative Justice Systems, Court-connected Systems among others.
5. Explore how to utilise the effective mediators' time, talents and treasures by combination of in-person, virtual (ODR) and hybrid services; better serve everyone, achieve impact, and be sustainable for Kenya and other African countries.
UN SDG Goal 16: Promote peaceful and inclusive societies for sustainable development, provide access to justice for all and build effective, accountable and inclusive institutions at all levels.
The topic resonates with WASILIANAHUB in its mission of "Technology transforming  the professional mediation practice in Africa" and its drive for conflict transformation through decentralised community-based mediation and resolution centres up to every village in Kenya. Centres of choice with the people at the centre of their justice and not at the mercy of access to justice systems arising from socio-cultural, economic, educational, technical, and system design hurdles. This, achieved by combining verified and accessible mediators, technology, and the appropriate dispute mechanisms to deliver SMART, trusted, judicious choices which is underlying the countrywide MARC - Mediation and Resolution Centres.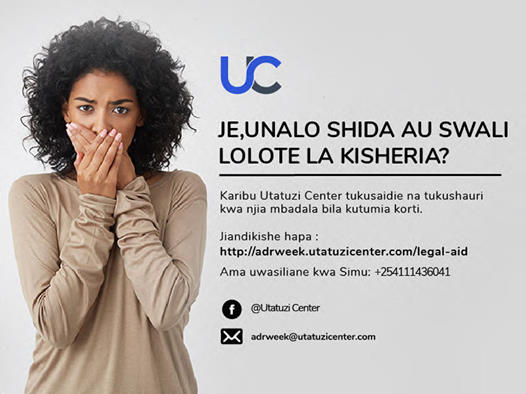 The Utatuzi Center Virtual ADR Week organised under the theme "New Paradigms for Access to Justice" brings together local and international participants. The event partners and speakers lined up are drawn from among others; We are more, HiiL Justice Innovation Hub East Africa, Suluhu Mediation Center, Strathmore University, ODRAfrica Network, IDLO, KYIV LEPP, AsyLex, Resolve Conflict, UA2J School of Practice, Win-Win Chamber Mediation, University of Pretoria, The Judiciary of Kenya, The Catholic University of Eastern Africa (CUEA) Center for Social Justice and Ethics (CSJE), and WASILIANAHUB.

Panelists listed for the event include peers who have been resourceful to the WASILIANAHUB Community during virtual sessions hosted in the past including: Young Mediator (YMM) Rashid Mbwiza, Manager of Win-Win Chambers Mediation and a Partner at Just Dispute Resolution Centre LLP; Edwin Apacha, consultant Mediation Training Director with Suluhu Mediation Centre; Mr. Adejuwon Adenuga, The Chairman of Advisory Board of ODRAFRICA Network; Morenike Obi-Farenide, The Founder ODRAFRICA NETWORK; Dr. Francis Kariuki, lecturer at Strathmore University Law School and director of the Strathmore Dispute Resolution Centre (SDRC); and Hon. Caroline Kendagor, Principal Magistrate with the Kenya Judiciary and the Vice President, Kenya Magistrates and Judges Association, and the Mediation Deputy Registrar in the Court Annexed Mediation Secretariat, Nairobi. To learn about all the speakers, visit the event website.

The ADR Week event programme which includes provision of free Legal Aid will conclude with an Essay Writting Competition. 
"Participants are invited to author an essay in English between 1000-2000 words (excluding footnotes and references) evaluating the role of technological–powered Alternative Dispute Resolution ( ADR ) in a post pandemic Africa i.e. as a catalyst for change in the e-commerce, trade and justice sector. The end goal is for the participants to examine how technology-powered ADR/ODR can facilitate people-centred justice and act as a catalyst for growth and development of the African continent."
The WASILIANAHUB Community looks forward to participating at the ADR Week and congratulates the Utatuzi Center team and its listed founders Muiruri Wanyoike, Josephine Wairimu, and Eratus Njaga and partners as the team adds to the breath of fresh air into the mediation ecosystem in Kenya and Africa.
Event Image Credits: Utatuzi Center.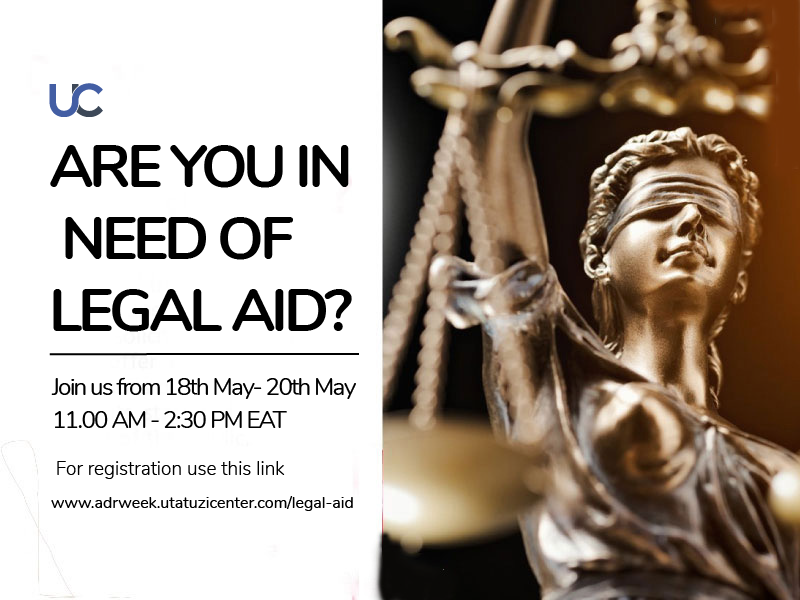 An accompanying note to use to invite people for Legal Aid at The ADR Week: "Do you have any legal/law need or any legal questions? Or do you know anyone who needs legal help? Are legal fees hindering you from getting quality legal advice? Worry no more! Utatuzi Center is offering free legal aid from 18th - 20th May 11 AM - 2: 30 PM EAT. Qualified lawyers and other legal experts in the access to justice sector will provide online professional legal help and advice for you free of charge. To register and benefit from this lifetime offer go to https://www.adrweek.utatuzicenter.com/legal-aid/. Please share widely to help you and other Kenyans in need of legal help."
"Huduma ya Mpatanishi Mteule." Professional Mediators are a breath of fresh air of trust and a new vision of hope. @WASILIANAHUB I Enriching Lives: Build Better.
To connect:
e: wasilianahubmediatorsafrica(a)gmail.com
To learn about MARC -The Mediation Manager: A Mediators listing service visit:
w: wasilianahubmediators.co.ke

WASILIANAHUB is creating a society in which all people have access to use neutral options in resolving conflict and the ability to achieve sustainable outcomes that enrich lives. A community of professional mediators dedicated to increasing the understanding and use of professional mediation by building Africa's largest portal of mediators, starting off from Kenya. We are enriching lives; relationship building, resource efficiency, public image and peace. wasilianahubmediators.co.ke.

Established in 2003 , The CUEA Centre for Social Justice and Ethics (CSJE ) of The Catholic University of Eastern Africa (cuea.edu), carries out a number of activities in the AMECEA region and beyond in line with the three-fold mission of universities: research, teaching and formation, and community service, and in light of CUEA's motto Consecrate them in the Truth. It seeks to empower different stakeholders on social cultural issues to enable them engage in Justice and Peace, human rights, equity and participatory leadership. The Centre offers academic and outreach programmes to the Youth, Justice and peace animators, human rights advocates, policymakers, educators, politicians, administrators, businessmen and women etc.

Through its strategic collaboration with The CUEA Centre for Social Justice and Ethics (CSJE) of The Catholic University of Eastern Africa a university with excellence in research, teaching and formation, and community service, the WASILIANAHUB mission has access to reach 11 countries in Africa and the international network of students and strategic partners.

Posted: 17 May 2021