Breakfast Meetup: Voices in The Changing World
March 2021 Mediators Breakfast Meetup: Voices in The Changing World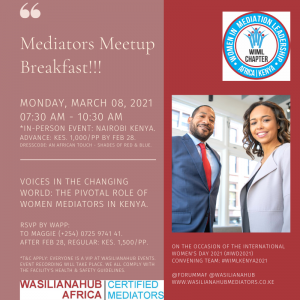 Save The Date!!! Registration is now open.
The Women In Mediation Leadership (#WIML) Kenya Action Group is pleased to extend an invitation to the March 2021 in-person Mediators Breakfast Meetup to be held on Monday, March 8th at 07:30am to 10:30am. The networking event to be hosted in Nairobi County will bring together professional mediators from across Kenya with an interest to grow connections.
The theme of the event on the occasion of the International Women's Day 2021 (#IWD2021) is "Voices In The Changing World: The Pivotal Role of Women Mediators in Kenya". To participate, register by February 28th.
Suitable for: Mediation & Dispute Resolution Professionals.
Event Information: Mediators Meetup Breakfast in Nairobi
Date: Monday, March 08, 2021
Time: 07:30 AM - 10:30 AM
In-Person Event: Nairobi Kenya
Advance: Kes. 1,000/PP
Dresscode: African touch - shades of red & blue
RSVP By WApp To Maggie: By Feb 28th.
After Feb 28th, Regular: Kes. 1,500/PP.
*T&C APPLY: EVERYONE IS A VIP AT WASILIANAHUB EVENTS. EVENT RECORDING WILL TAKE PLACE. WE ALL COMPLY WITH THE FACILITY'S HEALTH & SAFETY GUIDELINES.
**Attendees (confirmed participants) will receive the venue information closer to the event date.
About:
The breakfast event is part of the Quarter 1 Mediation Day Symposium activities. The quarterly symposium events hosted in-person and virtual by WASILIANAHUB focus on #ADRTomorrow: positioning; policy; and practice.
Application closed. Thank you
Email to: wasilianahubmediatorsafrica@gmail.com www.wasilianahubmediators.co.ke   ###Ends 2021 February.